When Basel Institute of Commons applied for the UN SDG Partnership in late 2015, there was enthusiasm among the new stakeholders from Civil Society and Academia: will we all become a part of joint efforts to achieving the 17 Goals? Will we be SDG fellows and sustainability buddies?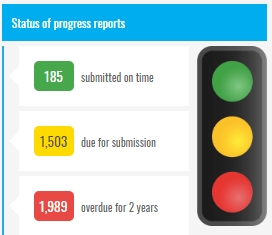 The first setback came in early 2016 when some Statistical Offices reclaimed our inclusion in the IAEG on the SDGs. As a consequence, the civil participation has been stopped. Since then only the Statistical Offices are allowed to define and discuss the indicators measuring the SDGs.
While we are among a small group of experts worldwide that have stakes and overview on measuring the SDGs – maybe twenty persons worldwide – neither IGOs nor NGOs consider the issues on measuring the SDGs. In general they select their favorite SDGs – those who fit with their agenda – and leave the measurement to the National Statistics Offices.
Now, in March 2019, the situation entirely changed. From 3677 projects within the UN SDG Partnerships, only 185 are in line and achieved the green "SMART" button (see screenshot).
The World Social Capital Monitor of Basel Institute is amongst them:     https://sustainabledevelopment.un.org/partnership/?p=11706
If you'd have a look at the other projects, you quickly see that they are all regional and/or national. It may though occur that the World Social Capital Monitor remains the last Global SDGs Partnership project.
We won't hope that and encourage other projects to continue to supporting the 17 SDGs – even without donors, who cherry pick the SDGs and never go for worldwide visions fearing to be blamed while missing them.
Kommentare deaktiviert für The last remaining worldwide UN SDG Partnership Project?
admin am März 26th 2019 in Allgemein