On good reasons the Chinese, Google and Bing  crawl this section like crazy: They get state-of-the-art results for free. We do not only offer our own research, but other research results as well. Have a look at the Google ranks: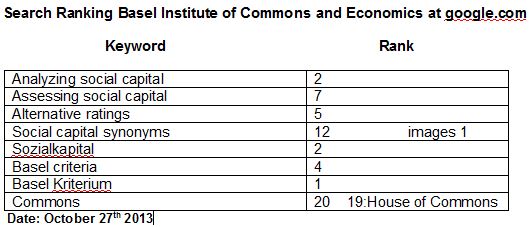 Recent research on Social Capital
The UK report on Well-being and Social Capital 2014 from Veronique Siegler of the National Office of Statistics, which is located in Wales since 2006.
Dirk Helbing's (ETH Zürich) article on Global networked Risks featuring Social Capital in Nature 2013.
The latest OECD report on Measuring Social Capital from 2013 by Katherine Scrivens and Conal Smith.
My article What is Social Capital 2015 with statements from Thomas Sanders (Harvard), Jan BM Goossenaerts (Wikiworx) and Fabio Sabatini (EURICSE).
A very actual essay "The Case 'Against' Social Capital" from Steven N. Durlauf of Wisconsin University from 1999.
Recent research on Sovereign Risk
Have a look at the talk between Eurostat's General Director Walter Radermacher and Alexander Dill on how to measuring sovereign finance.
It took three years until Thomas Herndon found out, that Rogoff/Reinhart had a mistake in their EXCEL. The following five links show you how amazing different the speed in research is. Think, estimate, calculate by yourself"
This is the original study "Growth in a time of debt" from Kenneth Rogoff and Carmen Reinhart.
This is the critics on this study by Thomas Herndon from April 13th 2013
This is the press release of Eurostat from April 22nd 2013 presenting the most recent figures of the sovereign debt of Europe.
This is our press release on the interpretation of the figures of Eurostat from April 23rd 2013
This the article of Laura Frommberg in the Swiss Handelszeitung from April 25th 2013
Research on sovereign risk rating
From September 2011 on the Basel Institute of Commons and Economics commented on the practice of the rating agencies. The German TV feature ARD Börse published our comments:
http://commons.ch/wp-content/uploads/Nur_Norwegen_verdient_ein_AAA.pdf
http://commons.ch/wp-content/uploads/EFSF_Bestnote_ungerechtfertigt.pdf
http://commons.ch/wp-content/uploads/Opportunismus_Vorwurf_an_Standard_Poors.pdf
http://www.tagesschau.de/wirtschaft/dillinterviewratingagenturen100.html
On May23rd, the Basel Institute of Commons and Economics published an upgrade concerning Japan:
http://boerse.ard.de/analyse-und-strategie/regionen/japan-schlechte-note-gute-note-100.html
Decide yourself, if our estimate, that Japan had excellent Social Capital was correct.
In June 2012 the University of St. Gallen, Switzerland, published a study that confirmed our critics on the rating agencies.
The title:  "Rating agencies, self-fulfilling prophecy and multiple equilibria? An empirical model of the European sovereign debt crisis 2009-2011". You may download it here.
Research on alternative country ratings
It took five years unless the so called "Commons Index", first published in 2007 by Alexander Dill at the Library of the Commons of the University of Indiana, USA, found a first reception in science.
Roland Bardy (Florida Gulf Coast University) and Maurizio Massaro (Udine University) published in June 2012 the   Bardy-Massaro-Composite-Index . The Index contains the National Commons Product of the Basel Institute of Commons and Economics.
Further Research
Have a look at the fascinating and suprising results of our study calledGift economy and trust in rural Nepal. (PDF 1 MB)
Or share our study on Local Commons in rural Sao Paulo (PDF 1 MB).
You work in a developing country? Read this short presentation to learn how you can measure social capital in your community.
The very special aim in this section is to offer not only our own research. Providing research results is a key issue of our Institute. We differ in many ways from other Commoners. But the way we differ can only be explored by comparing our approach with the research of competitors, other organizations and institutions.
An these are the most recent influences and references to/on our work:
1) Nobel Laureates Joseph Stiglitz and Amartya Sen launched a report to the European Commission, initiated by the French President  Nicolas Sarkozy. The 290-pages report appeared on September 14th in 2009.
2) Only four weeks before publishing the Stiglitz-Report the European Commission published a summary of it's activities Beyond GDP and made sure that the next review of the GDP will not be before the year 2012:
EU-report_beyond_GDP_20_08_2009
3) If you're (as we are) quite interested in the expanding state securities bubble, the following study of the Société Générale from November 2009 might be of value for you:

22776263-Societe-Generale-Worst-Case-Debt-Scenario-Fourth-Quarter-Nov-2009
4) Research from people within the Financial Industry such as from Ph.D. Konrad Hummler, owner of the Wegelin Private Bank in St. Gallen, Switzerland, can be of high value if it doesn't repeat mainstream knowledge:
Farewell America by Konrad Hummler
5) There have always been attempts to develop alternatives to the GDP. Let's have a look at some of them:
That's the  Living Planet Report from 2008: living_planet_report_2008
The Human Development Index from 2008 aus: Human Development Index
This approach ended in  2006: Genuine Progress Indicator 2006
And that's the Happy Planet Index: http://www.happyplanetindex.org/explore/global/index.html
6) It would be wrong and unjust not to mention the research of the Worldbank. In 2006 they published a report on Social Capital worth reading:
Analyzing_Social_Capital_in_Context-FINAL
7) A singular and unfortunately not continued approach by the former Worldbank President Francois Bourguignon was the first report on the World's Wealth from 2006. It didn't reach a wide audience but here you can get it:
Where is the Wealth of Nations
8) Our British colleagues from the the new economic foundation (nef) have recently published a report that compares the common value and/or damage of six professions in the UK. Read the funny-to-learn results:
9) The entrepreneur Peter Barnes published one of the rare books on commons and capitalism. Together with Alexander Dill from our Institute Peter Barnes is mentioned in the section "Postmodern economy" in Wikipedia:
http://en.wikipedia.org/wiki/Economy. His major oeuvre is ready to be downloaded here:
Capitalism 3.0 by Peter Barnes
10) Finally also Alexander Dill published some research papers in English:
Reclaiming the Hidden Assets – Towards a Global Freeware Index (2007)
Wealth Beyond GDP – Composing a National Commons Product (2009)
What's the difference between  National Commons Index and other Indices? Let's have a look at the most important international Indices:
Index                                                                Provider                                          Importance/Costs
| | | |
| --- | --- | --- |
| World Development Indicators Database/Country classification | World Bank | +++++ |
| Human Development Index | United Nations Development Program | +++ |
| Environmental Sustainability Index | Yale University | +++ |
| World Database of Happiness | University of Rotterdam | ++ |
| Global Peace Index | Fund of Peace, Australia | + |
| Global Competitiveness Report | World Economic Forum | ++ |
| Wealth of Nations Report | World Bank | +++++ |
| Shadow Economy Index | University of Linz, Austria | + |
| Annual Report of Development Effectiveness | World Bank | +++ |
| World Values Survey | University of Stockholm, Sweden | ++ |
| Bertelsmann Transformation Atlas | Bertelsmann Stiftung, Germany | ++ |
| Country Strategy Papers | European Commission | ++++ |
| Happy Planet Index | New Economics Foundation, London | + |
| Living Planet Report | World Wildlife Fund | +++ |
Currently our approach, the Global Commons Index and the National Commons Product differ especially in the following points from conventional approaches:
1) We don't create rankings. Because the importance and the impact of special Commons differ locally, the aim is only to explore existing commons, not to reclaim absent ones.
2) Our research and measuring of the Commons happens not only by analyzing existing statistics or creating theoretical or political positions but as well by local, regional or national qualitative research and meetings with the local people.
3) We don't believe in a competition between cultures, regions or states. Every culture, every region has it's own unique Commons. We only help to explore, to highlight and to develop them. We completely accept the Status Quo of all people and cultures.
4) Therefore we also consider private commons such as private gifts, black labour and idealistic activities, not only labour that could also be organized through employment and money.
5) We are not primarely dedicated to create scientific knowledge but to improve the Social Capital of communities.
Seiten
admin am November 14th 2009
Kommentar schreiben